Hot Water Heater Repair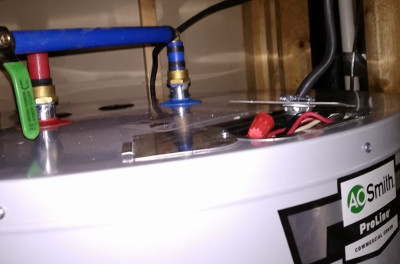 Water heater repair is a core plumbing service offered by Raab Plumbing and Heating. Water heaters have a finite lifespan and you can get more years out of your hot water heater by general maintenance and cleaning. Having no hot water can be a pain. Let the experts at Raab Plumbing & Heating help maintain and repair any hot water heater problems you may encounter. Raab Plumbing and Heating has over 40 years experience in the water heater repair service industry. Let us put our experience to work for you.
Not all hot water heaters can or should be repaired. Older, non-efficient hot water heaters should probably be replaced. New energy efficient hot water heaters can save you time, money and inconvenience going forward. Either way, whether you need water heater repair or water heater replacement, Raab Plumbing & Heating can handle your hot water heater issues.
Water Heater Repair
If your water heater can be repaired, Raab Plumbing & Heating has the expertise to do a great job at an affordable price. When hot water heaters start reaching their end of life cycle, water heater components can start to fail. As the parts break down and start to wear out the hot water heater itself won't work correctly. We can replace old, worn out hot water heater components and maintain your water heater so it will continue to perform at an efficient level.
Water Heater Replacement
Raab Plumbing and Heating can also handle all of your hot water heater replacement issues. We carry some of the very best hot water heater brands on the market. With our over 40 years of experience in the plumbing services industry, we can recommend the best water heater replacement. Whether you need a standard size hot water heater, extra capacity water heater or even tankless hot water heaters we have you covered. We will come out to your house and access the situation, then determine your needs and replace your hot water heater with a new energy efficient model.
Water Heater Installation
Raab Plumbing and Heating only uses quality plumbing parts when it comes to installing a new hot water heater. To ensure that your new hot water heater will last for years to come, we promise to only use high quality parts during the installation of your new hot water heater. Top quality hot water heater installation can only be assured by using the best parts. The labor is only as good as the parts and components that make up a water heater installation.
Water Heater Service
Raab Plumbing & Heating specializes in water heater service. Hot water heater replacement or water heater repair. We can perform either service and will advise you of which is most beneficial to your particular situation.We can install any range and style of hot water heaters. Raab Plumbing and Heating can repair or replace your hot water heater at an affordable price and do it right.
Call Today for all your hot water heater repair needs! (810) 796-3126